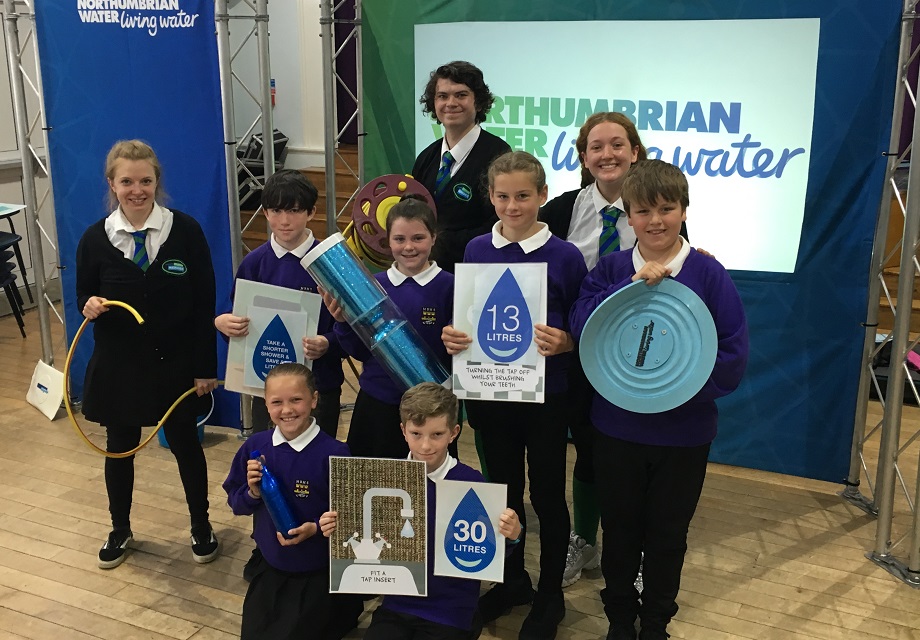 Innovative Theatre in Education 
Gibber work with key organisations within the water industry to support greater water efficiency and educate future customers through memorable learning experiences using innovative Theatre in Education (TiE).
This post looks at why TiE is an effective method for engaging with young people to deliver key water saving messages in an entertaining, informative and fun way. As well as, a case study example of a program Gibber develop and deliver that achieves positive changes in attitudes and water using behaviour.
Why Theatre in Education?
When it comes to learning about social or environmental issues no one likes to be lectured or talked at and young people are no exception.
Theatre in Education allows you to connect with young people, empowering them to reflect upon their own behaviour by combining learning with a fun and enjoyable educational experience.
Gibber's delivery model uses a combination of live theatre, interactive workshops and follow on teacher resources to deliver a memorable learning experience.
Delivered within the school environment and underpinned with links to the national curriculum, well researched, bespoke scripts, are brought to life by professional actors. The actors create credible characters that the young people can identify and empathise with which has been identified in evaluation as a prerequisite to attitudinal change.
Following the performance, the same inspirational actors work with the young people in an interactive workshop, ensuring the messages have been understood and retained. This helps young people assimilate the learning into their own thinking and understand the benefits of making small changes and how it can impact positively on their own lives.
Ultimately, theatre in education programs empower young people to make informed, healthy life choices. A TiE delivery style helps you to start conversations around issues in a way that teachers and adults can't. It raises awareness of the topic presented and it leaves behind a legacy for teachers and parents to continue that conversation long after we've left.
How TiE supports water efficiency?
Original theatre in education programs support greater water efficiency and have helped organisations such as Northumbrian Water Group and United Utilities to achieve their water conservation targets.
A successful TiE delivery concept delivers key learning objectives to the target audience in a way that is easily remembered and that influences behavioural change around water usage. It offers opportunities for cross curricular and further learning around the environmental topic in school. Additionally, it is fully evaluated to ensure water efficiency objectives have been met, to inform future delivery and provide evidence of customer satisfaction.
Case Study: 'Super Splash Heroes' 
In partnership with the Northumbrian Water Group Gibber develop and deliver the Super Splash Heroes TiE program. Gibber's multi-sensory approach of live theatre, film and multi-media is highlighted in evaluation as both enjoyable and effective in delivery of its key objectives: to educate children about how they use water, how wasteful we can be and how we can change our water using behaviour.
Quick Stats
3-year delivery stats across 2 areas:
97,000+ children informed and inspired to waste less water
580+ performances delivered
520+ schools visited
100% of teachers AND students rate the performance positively.
100% of teachers would like Super Splash Heroes repeated.
98% of pupils think drama / performance is a good way to learn.
"Your presentation has made a lasting impression and will carry an important water saving message home."
Mr J Allan, St Mary's CE Primary
"It helped me learn everything I need to know about saving water."
Pupil, James Knott Primary Primary School
Conclusion
Overall Gibber supports water efficiency through our pioneering Theatre in Education programs because we reach high capacity audiences in a short period of time and deliver key water saving messages that are understood and remembered.
Evaluation proves that our delivery concept of live performance, interactive workshop and signposting to teacher resources creates a lasting impact; making what Gibber do a powerful, cost effective resource.
Theatre in Education can effectively support many social and environmental issues. To find out more look at our education case studies or please contact us.