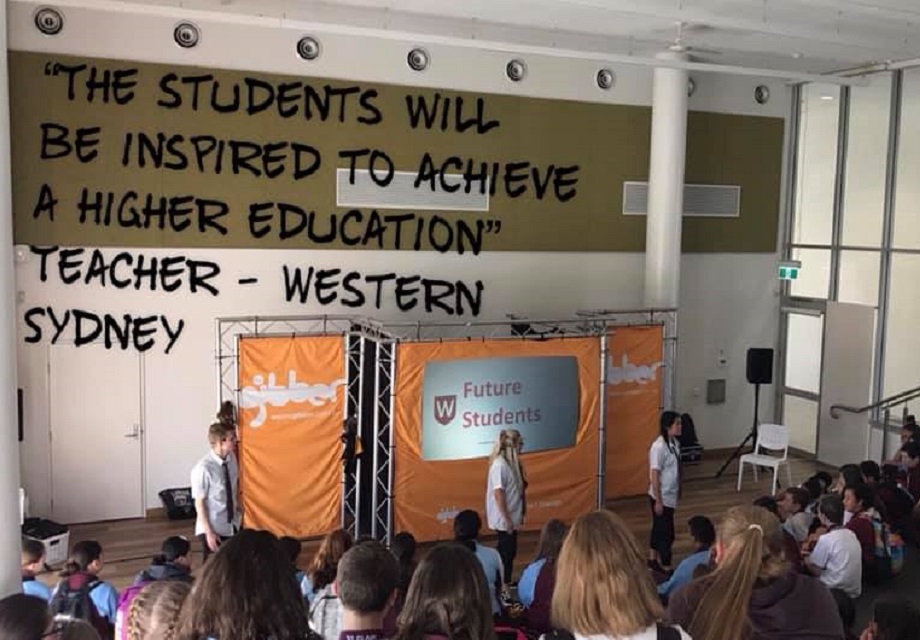 "I think this is a positive strategy to achieving our dreams"
Since 2013 Gibber have been successfully developing and delivering the innovative widening participation program, Aim Higher, in partnership with Western Sydney University.
The dynamic, interactive Aim Higher performance engages and inspires young people to broaden their education horizons and consider higher education as a realistic option. As well as inform about the different pathways available.
The feedback for Aim Higher is always positive and this year's delivery has been no exception. As you can see from the film above both teachers and students identify the many benefits of the program and learning in this creative way.
"The main thing I learnt today is to basically aim high and never let words put me down and to believe what I can do is possible. I think this way of learning encourages me to go to university and believe more in life."
Student, Bankstown Girls High School
"The students are now a lot more excited about their futures and with a lot more clarity about what they can do and not just having one or two options."
Michael Ross, Rooty Hill High School
If you need help to engage with a young audience and deliver your key messages we would love to help. Please contact us