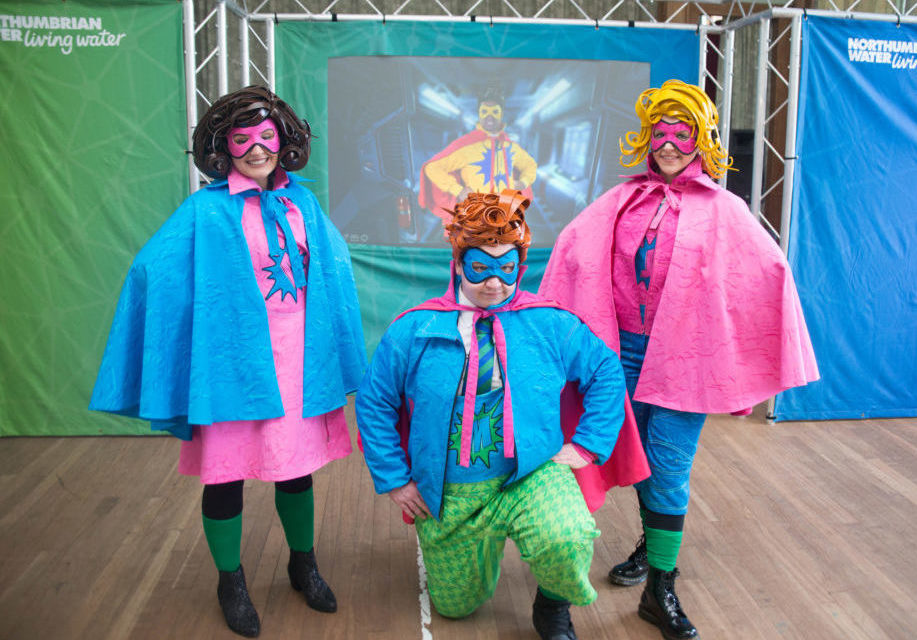 Get Water Wise!
The evaluation is complete for our first 'Super Splash Heroes' water efficiency educational programme and we couldn't be happier with the results. The aqua savvy Super Splash team have been spreading the message to 'Get Water Wise' far and wide, and now thousands of primary school children, their families and the wider community know how to save water every day and are changing their water using behaviour.
Super Splash Heroes
The Super Splash Heroes is an innovative, educational pantomime performance and interactive follow on workshop developed in partnership with Northumbrian Water. Using Gibber's effective delivery model of Live Theatre, Film & Multimedia it engages with schools and educates primary school children about the benefits of water efficiency.
Devised to compliment a number of National Curriculum areas, most specifically Geography, Science, English and PSHE; the programme forms an important part of Northumbrian Water's Every Drop Count's campaign.
Results
During the Spring and Summer terms 2017, 111 performances and 115 workshops were delivered in 99 primary schools across Northumbrian Water's and Essex & Suffolk Water's operational areas.
To date approximately 17,736 pupils have participated in the programme:
100% of teachers questioned would like Super Splash Heroes repeated in the future
100% of teachers questioned rated the performance as excellent (77%) very good (23%)
100% of pupils questioned rated the performance as excellent (52%) very good (25%) or good (23%)
Conclusion
Theatre in Education has the unique ability to engage many different learning styles, facilitating a connection with pupils and motivating them to reflect upon behaviour. An identified strength of Gibber's performances is the 'young people' characters which are reflective of the young people in the audience akin to peer mentors, credible and likeable which helps young people to assimilate the messages into their own thinking which is regularly stated in evaluation:
They loved the comedy and related well to the actors being children.
Use of language that kids use made it credible
Characters were likeable and of a similar age to the children so made it relatable
The young super splash hero characters helped engage the children, they all want to be a super hero
They could relate to them and were using the actions and talking about how to save water at break.
The actors put the information into context for every day, making it relatable
The ability to portray topics in a very visual way and to provide a context for the information provided was given as a strength of Theatre in Education in that it allows young people to make inferences about what the information provided means for themselves in everyday life (Mages et al. 2007) When you combine learning with a fun and enjoyable experience it is evident in evaluation that the messages are more likely to be understood and remembered:
Comedy worked – making children laugh but getting across the information
Using fun characters to get the message across worked well and will help them remember
Using all the creative characters to engage the children. They were using the actions and talking about how to save water at break
The fun way in which it was delivered was engaging and ensured children remembered how to save water
Pupils really enjoyed the humorous songs -they were learning without realising
It is clearly evidenced that Gibber's multi-sensory approach of live theatre, film and multimedia is not only Enjoyable, 100% of pupils rate the performance positively but also Effective in delivery of its key objectives: to educate children about how they use water, how wasteful we can be and how we can change our water using behaviour.
Teacher's regularly comment on drama as an excellent way to get the message across to children and embed learning and state how much information they feel the pupils have learned. They identify the quality of the production and performers, the characters, songs, multimedia and interaction as having a positive impact on the children helping to reinforce the key messages and influencing children to assimilate the learning into their own behaviour and attitudes.
"Your presentation has made a lasting impression
and will carry an important water saving message home."
Mr J Allan, St Mary's CE Primary Woodham Ferrers
Watch out for more from The Super Splash Heroes who will be back on the road in September 2017. You can read about Gibber's other TiE programmes and if you have a project that we can help you with please get in touch.