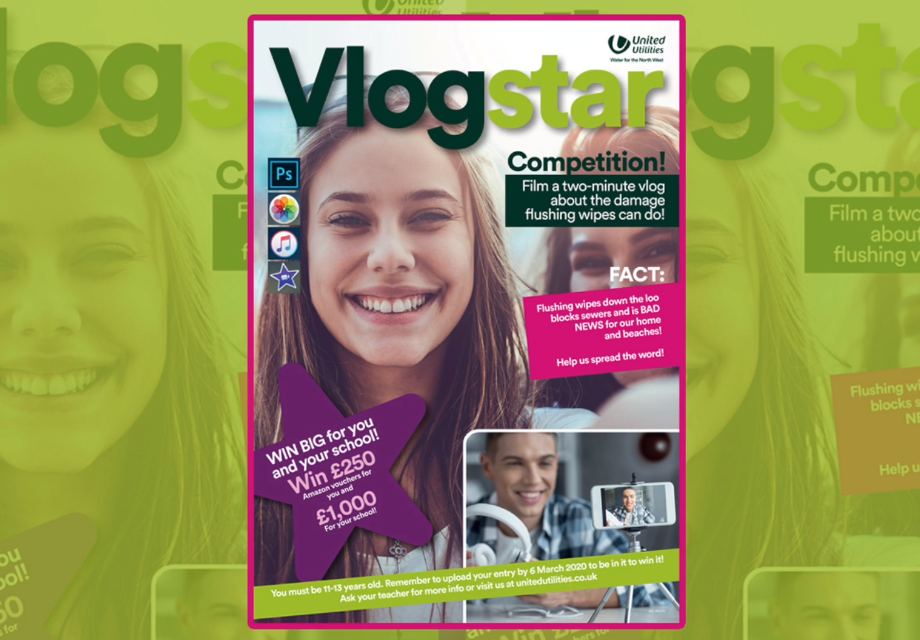 Successful delivery of environmental education programme
Gibber's Think Before You Flush theatre in education programme with United Utilities has engaged and inspired over 4000 young people to stop flushing wet wipes.
A total of 27 interactive, magazine style performances and workshops took place in schools across the North West of England. Informing students in Year 7 and 8 about the damage flushing wet wipes down the toilet and pouring fats, oils and grease down the sink can do. Therefore helping to reduce blockages and sewer flooding to homes, gardens, rivers and beaches.
Vlogstar Competition
Gibber are now encouraging North West youngsters aged 11-13 years to enter United Utilities Vlogstar 2020 competition.
Anyone who would like to apply needs to send a 2/3-minute vlog on the subject of Think Before You Flush. A fantastic prize is up for grabs with a £250 Amazon vouchers for the chosen winner and £1,000 for the school. For more details take a look at the competition terms & conditions. 
Vlog Support
There is lots of useful information to support with vlog entries on unitedutilities.com under 'Vlogstars 2020'. It includes 7 Cool Tools For Vlogging with links to all the information given in the Think Before You Flush performance and hints and tips to help vlogs stand out; The Art Of Being A Vlogstar.
Entries don't need to be complex. A simple and authentic vlog that presents the message of 'what not to flush' loud and clear is what United Utilities are looking for.
Competition deadline is Friday 6 March at midnight.
If you need any further details about the Vlogstar 2020 competition please email sarah@wearegibber.com
Gibber run a range of theatre in education programmes with an environmental focus. If you would like to know more about them, please take a look at our schools page or contact us for further information.