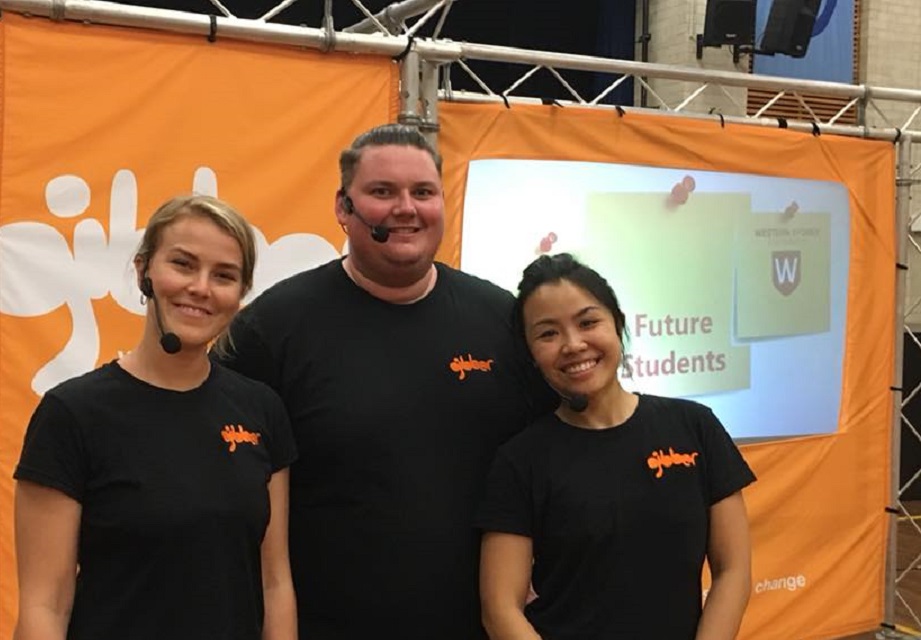 The benefits of Theatre in Schools
If you read our blog post 'What is Theatre in Education and 5 reasons why it supports education of young people?' then you will know that there are lots of benefits of using Theatre in Schools programs to achieve learning objectives.
To follow on, we are going to look at two forward-thinking organisations, from both sides of the globe, who are successfully executing Theatre in Schools (TiS) campaigns. UK based Northumbrian Water, and the Western Sydney University in Australia have discovered TiS as an innovative way to engage, challenge and inspire children and young people. We'll delve into why they chose TiS to reach their goals, as well as the positive impact and results they are accomplishing.
Northumbrian Water    
In 2016 Gibber began work in partnership with Northumbrian Water to develop two new environmental Theatre in Schools programs. You've Been Flushed and Super Splash Heroes form an important part of Northumbrian Water's educational work with children and the local communities they serve.
Why Theatre in Schools?
The two programs have different objectives but overall one main common objective; to raise awareness of a serious issue in an appealing way, provide support and advice and ultimately change long-term behaviour.
You've Been Flushed is an interactive educational performance that uses music, humour and multimedia to captivate and motivate a young audience. It forms part of NW's Love your Drain campaign which aims to educate on what should and should not be put down the toilet / sink, reduce blockages in the sewer network and raise awareness of the problems that blockages can cause.
Super Splash Heroes is an innovative educational program consisting of a lively, engaging pantomime performance and interactive workshop.  It plays a key role in Northumbrian Water's largest water efficiency campaign 'Every Drop Counts' which aims to thelp communities not only save water, but energy and money too.
Impact
You've Been Flushed and Super Splash Heroes Theatre in Schools programmes have been proven to effect real change in attitudes and behaviours by raising awareness of how we use water, how we waste water and how small changes in our water using behaviour can conserve water resources, reduce blockages saving energy and money.
100% of teachers questioned would recommend You've Been Flushed to others
100% of teachers questioned rated You've Been Flushed positively
100% of pupils questioned rated You've Been Flushed positively
100% of teachers questioned would like Super Splash Heroes repeated in the future
100% of teachers questioned rated Super Splash Heroes positively
100% of pupils questioned rated Super Splash Heroes positively
Western Sydney University
In 2013 Gibber won a contract for Bridges to Higher Education* to devise an innovative widening participation theatre in school's program Aim Higher.
Aim Higher helps young people to understand the benefits of staying in learning post 16; encouraging emerging aspirations and raising awareness of the financial support available and how to access them.
Why Theatre in Schools?
The Bridges to Higher Education initiative was a large-scale program which aimed to widen participation in higher education amongst communities currently under-represented in the tertiary education system.
Bridges chose to implement a Theatre in Schools project with the aim to provide, targeted low-socioeconomic status schools in Sydney with a bespoke, engaging, interactive motivational and inspirational theatre production. To communicate key Bridges widening participation messages and expose year 7 students to the benefits of Higher Education and thereby:
Raise awareness and understanding of the different routes to HE
Encourage students to stay in learning post compulsory school leaving age
Increase self-esteem, aspirations and motivation
Explain the career and financial benefits graduating from HE can bring
Communicate local information concerning HE and TAFE options
Highlight the support available in schools through Careers Advisors
Dispel the myths and any preconceived ideas that present potential barriers to students progressing to HE
Impact
To date Aim Higher has engaged with over 48,000 students.
100% of students agreed that that Aim Higher was excellent.
88% agreed that the information was easy to understand.
85% of students agreed that having seen the performance University was a realistic option.
*Bridges to Higher Education was a consortium of 5 Universities, The University of Sydney, The University of Technology Sydney, University of Western Sydney, Australian Catholic University and Macquarie University.
Have you considered Theatre in Schools as a creative way to engage, challenge and inspire children and young people? If you have an important message you need help to communicate drop us a line.