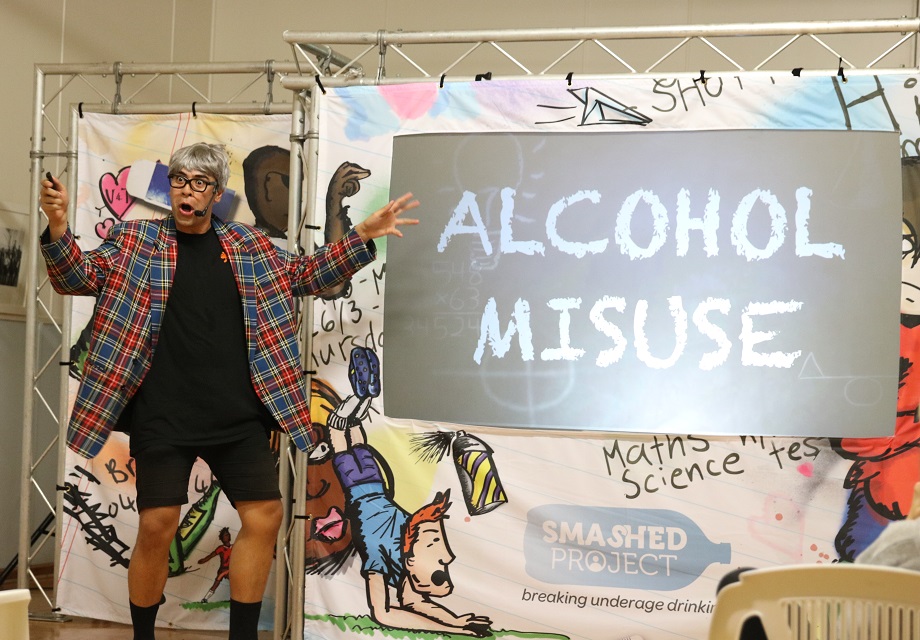 Breaking Underage Drinking in Australia
The results are in for the first Smashed Project Australia and it has been a great success.
Smashed, Diageo's flagship global theatre-in-education program, aims to break the culture of underage drinking and reduce alcohol related harm among young people around the world.
At the start of 2018 Gibber made changes to the UK version of Smashed for young people, schools and education stakeholders in Australia.
The first Smashed Australia tour engaged a wide variety and number of schools throughout The ACT, NSW and QLD in a short space of time with impressive statistics:
20,147 YOUNG PEOPLE PARTICIPATED
118 PERFORMANCES DELIVERED
103 SCHOOLS VISITED
Teacher Feedback
100% of teachers felt the performance was well produced and presented.
100% of teachers stated it is important that programs like this exist and visit schools.
100% of teachers stated they would like this program to visit school again next year.
99% of teachers thought the performance and workshop explored issues around underage drinking which are relevant to this age group.
98% of teachers think students understand more about the dangers of underage drinking than they did before the program.
"I was astounded at how great this program was. Perfect for the target audience. Best presentation around underage drinking I have seen in the school setting. Great job."
"Absolutely excellent! Contemporary, engaging and highly professional. Thank you!"
Student Feedback
Over 97% of pupils enjoyed the Smashed performance and workshop.
97.5% of pupils thought the Smashed performance and workshop was a good way to learn about the dangers of underage drinking!
85% of pupils say they think they are unlikely to drink alcohol underage.
"It was a creative and interactive way to learn about the serious issues of underage drinking."
"It helped me to learn what alcohol does and the negative impacts it can have on your health. It was entertaining, so I was interested the whole time."
Overall Findings
A comprehensive evaluation of the program was undertaken. Overall the results of the program demonstrate:
/ An increase in knowledge and understanding of the dangers of underage drinking.
/ An increase in knowledge and understanding of the reasons why some young people drink alcohol underage, particularly peer pressure.
/ An increase in confidence to make responsible choices around alcohol.
/ An increased awareness of local resources and services available to young people if they have been affected by alcohol.
The program established Smashed as a credible model for delivering underage drinking education in Australia. As a result, a second Smashed Australia tour was commissioned and delivered to a further 7000 young people during November and December 2018.
For 2019, the program will be developed further to build on these results and reach many more young people across Australia starting in NSW in term 1.
Take a look at our Smashed Case Study and watch clips and feedback from the show or read about our other work with schools.