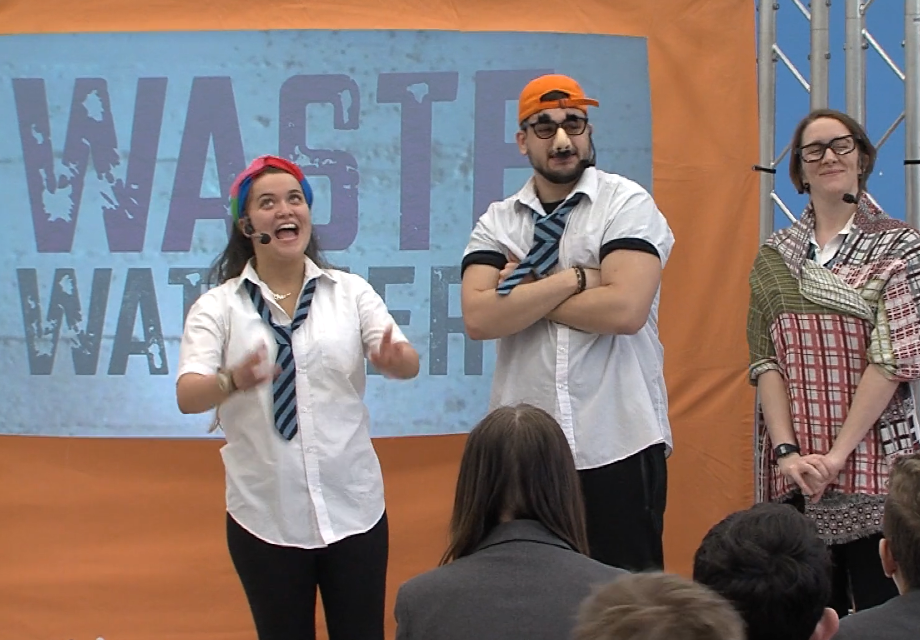 A decade delivering the waste education program
Gibber are happy to announce we will be delivering Derbyshire County Council's schools waste education program for the 10th year running.
Celebrating a decade of 'The Waste Watchers' delivery, the environmental education project is once again set to make a big impact amongst young people.
For 2019 delivery there will be some positive changes to the program. A new punchy script, songs and films will develop the high energy, interactive magazine style performance.
It follows the experiences of three credible actors, who reflect the multiple influences on young people's knowledge, behaviour and attitude towards our throwaway society. The audience learn from them on their journey, as they discover for themselves the importance of waste minimisation and recycling. As well as, incorporate practical ways of behaviour change into their daily lives.
Delivery is in a style that is fun and memorable, incorporating snippets of popular youth culture, celebrity, music and choreography. We will inform young people and challenge them to take responsibility for their waste disposal actions. Plus, promote a culture where waste minimisation and recycling is seen as a simple, undemanding, integral part of modern life.
Since the program began in 2009 nearly 50,000 students have taken part. The next tour begins in January 2019 and will visit 30 schools across Derbyshire.
For further information on Gibber's work in education please visit our schools page.